What people are saying about Ratika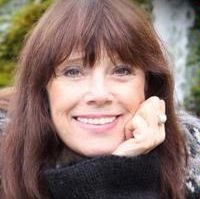 "Ratika, it was fun to deliver The Passion Test to Intel with you.  You are a great facilitator!"
Janet Bray Attwood
Co-author of The New York Times bestseller, The Passion Test - The Effortless Path to Discovering Your Life Purpose.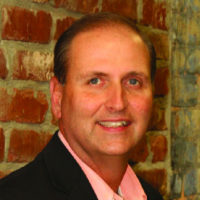 "Ratika, we greatly value your commitment to excellence in leadership through presenting the Make A Difference seminars at Intel.  Thank you for your continued support of Eagle Center for Leadership and for making a difference in the lives of others."
Dr. Larry Little
CEO of Eagle Consulting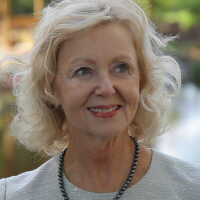 "Fun, inspiring, motivating, and challenging describe my experience in Ratika's Make-A-Difference training session.  Not only did I learn the content at a deeper level, I came away with real ways to apply it.  Ratika is a talented communicator who has done her homework and developed the skills to turn her talent into a gift for us." 
Jane G. Knight, Ph.D., ACC
Leadership Coach and Co-Author of Clarity Over Coffee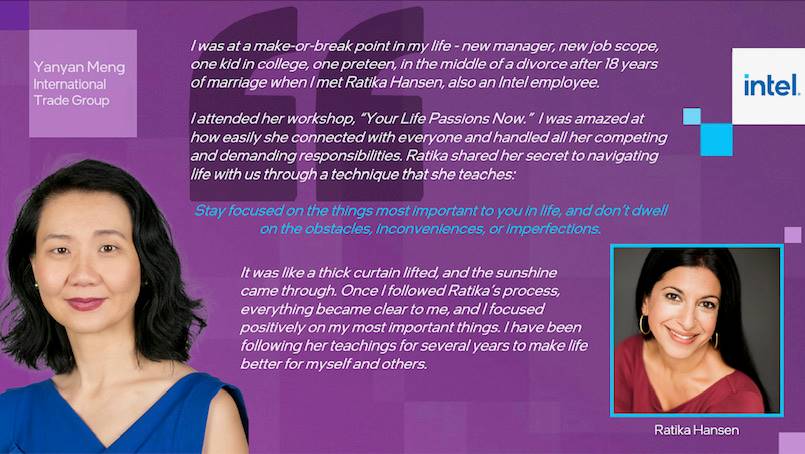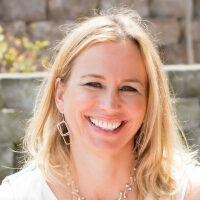 "Working with Ratika refocused my energy and rekindled my interest in this way of thinking.  She reminded me to rephrase my thoughts to be more empowering and she got me thinking about my goals again.  I would enthusiastically recommend her to anyone looking for a fresh approach to getting clarity on their personal and professional development."
Bea R.
HR Learning & Development Manager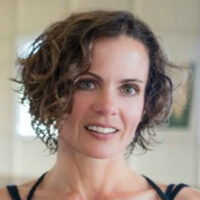 "This process brought such clarity!  And to have Ratika's support, love, and passion for what she does as a guide to help carve the passion from the marble opportunity of one's life is such an amazing gift.  Her presence in her passion rings true in each breath she shares. Thank you!"
Megan MacArthur
Real Estate Broker with MacArthur Sothebys International Realty, Nia Black Belt, cycling fanatic, Mom.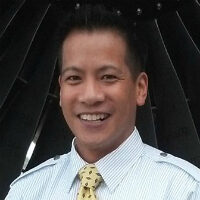 "The process of going from all the things I love to a list of my top 5 passions was insightful and illuminating.  This is an effective and repeatable approach to focus on the most important things in life that everyone could benefit from.  And Ratika's guidance and wisdom was inspiring!"
Paul G.
Flight attendant/Instructor Evaluator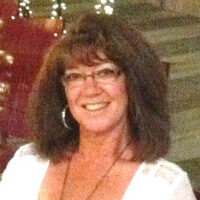 "Being a certified counselor and coach, I understand the power and importance in creating safe and sacred spaces for people to grow within. Ratika created this divine space for me from the first moment until the final moment, and the ripple effect of her gift will go on for a very long time.  As if channeled, her tone, patience, direction, inspiration, intention, love, compassion, dedication, and PASSION shined through with every session."
Lorraine M.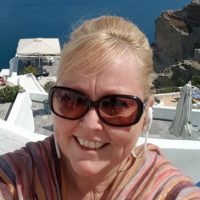 "I have had the pleasure of participating in Ratika's Discovering Your Life Passions workshop three times, each impactful on its own level and providing awareness that built on itself. I learned her tools for identifying and prioritizing my passions, then making the best decisions in support of following those passions. The skills in this session have changed my life repeatedly. They inspired me to take bigger chances.  I changed job positions, moved to a new city, traveled the world solo, and identified more interests in my personal life that have created such joy.  Living happy, working happy, and having great decision-making tools at my fingertips have been the result of Ratika's passion for sharing with others. Thank you Ratika!"
Amy P. Hanson
Administrative Partner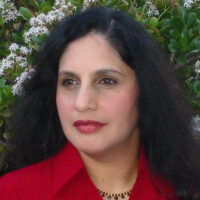 "Over an hour's car drive, Ratika guided me through the life changing experience of self discovery of my passions. The insights gained from the brief encounter have been pivotal to my living a more meaningful life."
Prabha Ganapathy
Entrepreneur & Lifelong Learner